Nokia 5800 Tips and Tricks Thread
1. To bring out the Shortcuts on your Screen/Desktop-> Settings/Personal/Home Screen/Home Screen Theme and select Shortcut bar, you can then select which shortcut to display if goto "Shortcuts". This will also bring out the "Track" playing being displayed when you open the Music Player.
2. Tap the Clock to bring out the Clock menu and make your alarm, alarm repeat is now built-in.
3. Tap the "General" or Date (the set Profile besides the clock) and the Profile selection menu pops out, almost similar to pressing the "Power" button in all S60, but here the Remove memory is not shown, but "Calendar" shortcut is included and the other profiles as well.
4. If you are on the Numeric Keypad, pressing the [#] key alternately will toggle the General and Silent Profiles, same as before, which means long press on zero [0] will bring out bookmarks for the Web.
5. Tapping on the displayed To do or Calendar entry will bring you immediately to that particular item.
6. Tapping the Active Icon on the Top Left (near the battery indicator) will give you shortcuts for any of the active icons.
7. Long press on the Green Call Button will still activate the Voice Command Prompt
8. Long press on the center button is similar to the Long press on the "Menu" key (the yin-yang key on most S60) which will bring out the menu for all the active applications.
9. Go to Applications/File Manager and setup "Backup" for automated backup schedule of your phone data.
10. How to update your Nokia 5800 firmware using your phone.
Presss *#0000# to display phone factory information and firmware
Now press options and select check for updates
The newest update is sent to your phone from nokia
Download and install updates.
This is done using GPRS or WIFI Connectivity.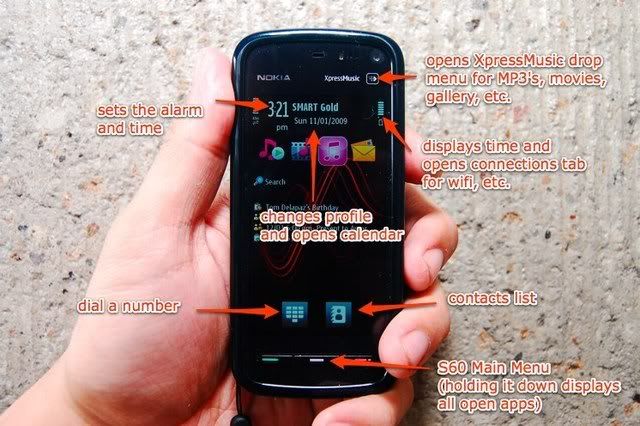 General Tips
=========
1. Use Dialer and press # for about 2 seconds will switch the profile between Silent and General; press and hold 0 will open the web browser; press and hold 1 will open the voice mailbox
2. There is a shortcut key for Music, Gallery, Share, Video, Web shortcut at the top right corner just below the front camera
3. Press and hold the Green caller button when standby mode will activate the voice command. You could call the name from the contact or application name.
4. Organize your sms by grouping them like outlook by Messaging -> Option -> Setting -> Text message -> Other -> Show messages in groups -> Yes
5. Notification light will blink if there is unread sms/missed call. It could be turned off at Settings -> Notification light -> Off
6. If the touch input is not accurate, you could calibrate your screen at Touch Input-> Touch Screen Calibration -> ( Tap around the 4 dots at the corner)
7. Turning control functions:
a. Rotate your screen horizontal or vertical
b. Silence your phone for incoming call by rotate your phone with screen facing down.
c. Snooze the alarm by rotating phone screen facing down
8. Theme effect will give 3D and transition effect if on but will slow down your tube considerably. Settings -> Personal -> Themes -> General -> Themes effects -> On/Off
9. Shortcut to exit application : Press and hold the middle white button then press and hold the program that you wish to quit, an open/exit option will pop out (useful for those haven't install handy taskman yet)
10. When using handwriting input, slide from left to right is Spacebar, right to left is Backspace
11. Organize your menu by Menu -> option -> organize. You could drag and drop the location of the application you wish to relocate.
Battery saving Tips
==============
1. Always turn off wireless scanning, Bluetooth when not in use
2. For those not using 3G, choose your network mode to "GSM" instead of "Dual mode" which will consume more battery. Settings -> Connectivity -> Network mode -> GSM
3. Less Display Light
a. Setting -> Phone -> Display -> light sensor (move the slider to the left)
b. Setting -> Phone -> Display -> Light Time-Out (lesser time to save battery but annoying if too short while you are playing games)
4. Always terminate the application properly that is not using by using Option ->Exit. It might be running background and consuming battery which you don't know.
Memory Saving Tips
==============
1. Restart your phone if the memory less than 30MB, you could either soft reset (User a dialer and dial 5 * * then call) or hard reset by pressing the power button
2. Use Handy Taskman to close all application regularly or kill application that is not in use.
Camera & Picture tips
================
1. Some noise could be reduced if set the ISO sensitivity to low instead of auto.
2. When viewing pictures, you could use your stylus to view for previous (slide left) or next (slide right) picture like iphone feature.
Video
====
For converting video that is high quality to play at 5800, should use the mp4 format as below (All is 16:9 widescreen):
a) Xvid @ 678kbps resolution 480×272
b) Xvid @794kpbs resolution 640×352
c) H.264 @ 512kbps resolution 400×224
d) H.264 @ 550kbps resolution 400×224 (Recommended)
Music tips
=======
1. If you can't find your songs after transferring from your pc to memory card, go to music player -> Option -> Refresh library
Application Tips
=============
1. Always install your phone theme on the memory cards. This is because if some theme does not work (Christmas tree) then you need to flash your phone.
2. Uninstall your application in proper way. Use Menu -> Setting -> Application mgr. -> Installed apps -> Choose application then option n uninstall
max_online32(Hem)
Nokia 5800 CERTIFICATE EXPIRED! Problem Solved
This method Is exclusively for Nokia 5800xm....
first of all I need to say some thing..... "This is a F.W bug(v11)......And I hope nokia will fix this bug in a month"
Exclusive Method:
=============
people you need signed applications(nokia 5800 compatible Appz)
1) Make your phone memory backup data using nokia pc suit 7.1(very important)
2) After that remove your Micro sd card from mobile..
3) Remove your SIM card also(very important)
4) press *#7370# and unlock code to format your phone memory(yap.. this is safe default is 12345)
5) You will lose all your important date with this action...so make a backup of your phone memory
6) Now nokia 5800 xm will reboot.....wait for a minute....
7) Then select your country region as "Hong Kong"
Cool Set the current time......(set your phone to offline mode)_
9) Now you can put that Micro sd card ......
10) And don;t insert that SIm card right now...just wait....and try to install any supported singed application (E.G-nokia handwriting calculator)
11) And Volla...u may install any singed application ......
12) After that just install your Sim Card.....
Hope this will make nokia 5800xm owners happy........
5800 Hard Reset(credit goes to Phat )
=============
WANNA HARD RESET YOUR NOKIA 5800 XM?
JUST PUT *#7370# AND THEN PUT LOCK CODE(I.E 12345) BACK UP YOUR PHONE MEMORY BEFORE DOING THIS
NEW LOCK CODE METHOD FOR NOKIA 5800XM
PRESS GREEN KEY + RED KEY + CAMERA KEY WHILE BOOTING YOUR 5800 JUST PRESS IT UNTIL YOUR DEVICE RESTARTS
This method is for nokia 5800 XM WITH F.W 20 AND UP
NOKIA 5800XM EARPIECE PROBLEM FIXED (Taken from youtube)
===============================
NOTE:DO AT YOUR OWN RISK....THIS MAY VOID YOUR WARRANTY IF DON'T KNOW ANYTHING ABOUT REPAIRING
VIDEO
=====
""""Fixing the problem with the earpiece which causes the volume to dramatically vary from high to low and the other way around during a phone call.
Again first of all you have to know that this could Void your phone Warranty. I don't know, I couldn't stand it so I've fixed it anyways lol.
note:- the last and most important part is not shown very clearly in the video because my camera's focus can't be adjusted so I can shoot the small parts I'm working on , so I'll try my best explaining it in words (please note that English is not my first language,Arabic is so bear with me here =P). After removing the earpiece as it's shown on the video , you will need to gently using a pretty thin tweezers or screwdriver to pull up (the two metal parts shown at the last pictures in the Video) pull them just a little bit till' you see that there is a gap between them and the Earpiece( The Picture I've taken is after fixing the earpiece .so That is how the piece should look like after fixing it = ) its important that you do it gently because you might end up breaking it. Now you are done all you need to do is to put back the Earpiece back to its place ( the letters and numbers at the bottom of the earpiece should be facing upside down just like the letters and numbers that are printed on where the earpiece will be attached (earpiece slot? I dunno)
Good luck and if you are having second thoughts you might as well take it to your local Nokia Care Center.
By the way this is my first Tutorial Video lol *that explains it =P """
NOTE: THIS IS NOT MY TUTORIAL ....BUT I TESTED AND ITS WORKED 100%-max_online32(Hem)
How to take photos on the Nokia 5800 Xpress Music(taken from allaboutsymbian)
======================================
Most phones have cheap cameras that use a technique called "fixed focus", which means the camera lens doesn't move. This lowers the quality of photos, because the camera cannot adjust its focus to match what you're taking a picture of.
The Nokia 5800 has a better type of camera called "autofocus", which allows the lens to move and automatically focus. Photos taken with auto focus cameras are generally much better than those from fixed focus cameras.
Photos on the 5800 are at their best if you use the various camera options to their fullest. Here's a quick guide to the main icons in the camera application:
Nokia 5800 camera application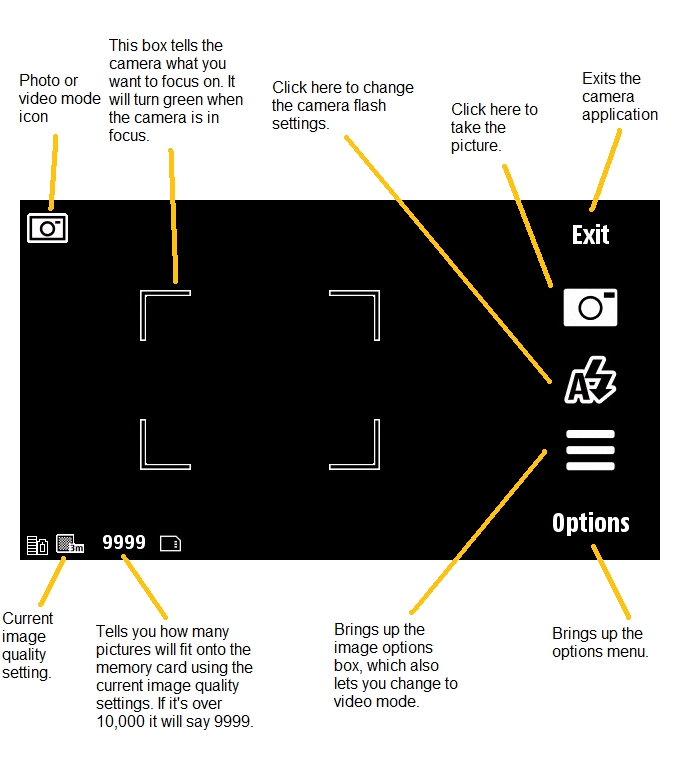 The camera button is your friend!
=========================
The 5800's camera can be switched on by pressing the camera button on the right side of the phone. Once the camera application is running, pressing the button again takes the picture.
However, that's not all. Like a standalone camera, the 5800's camera button knows how far in you've pressed it, and if you only press it part-way the camera will focus without taking the picture.
When you want to take a picture on the 5800, first make sure the subject of the picture is in the middle of the square on the screen, then press the camera button in part-way until the square turns green and bleeps, which indicates the picture is in focus. When the square is green, press the button in the rest of the way to take the actual photo.
The image options box is also your friend!
===============================
The 5800's camera has most of the settings options you'd find on a standalone camera, and a number of preset modes for various different situations. All of these options and modes can be found in the options box, by selecting the icon that looks like horizontal lines.